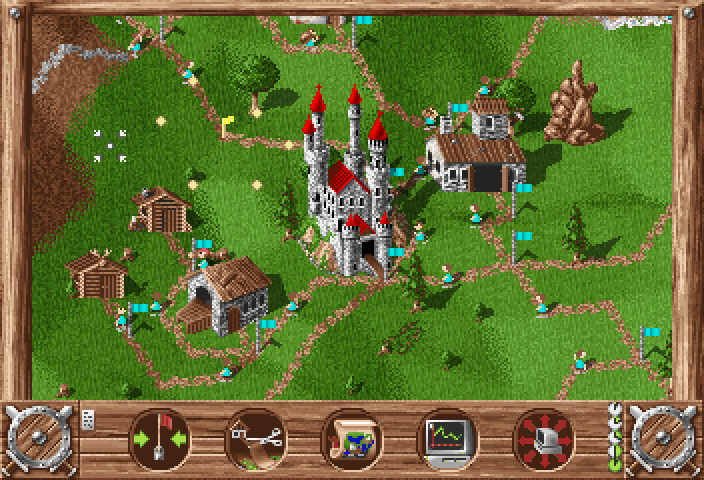 Serflings is a remake of The Settlers 1 or Serf City in some countries.
The game is as close to the original game as possible but also includes some useful extensions like higher resolutions and network games.
Important: To get the game to start you need one file from the original settlers 1 game because graphics and sounds are read from there. Please copy the file SPAE.PA (SPAD.PA for German, SPAF.PA for French) in the same directory where the remake is.
The remake is compatible with the files from the DOS version and the History Edition (Default path: C:\Program Files (x86)\Ubisoft\Ubisoft Game Launcher\games\thesettlers\loca).
The original game as History Edition is sold by Ubisoft either as part of the History Collection or individually.
History Collection: https://store.ubi.com/uk/the-settlers-history-collection/5b647011ef3aa548048c5977.html
Individual game: https://store.ubi.com/uk/the-settlers-1993---history-edition/5b647012ef3aa548048c597b.html

Keep up-to-date and become a fan: Discord Facebook Steam
Attention: The development version represents the current state of development and may contain errors or crash.
Downloads with integrated Java runtime
Download Windows 64Bit ZIP
Download Windows 32Bit ZIP

Downloads without integrated Java runtime
Important: To run the game you need Java version 17.
A suitable version may be downloaded at: azul.com or adoptium.net

Newest Version: 2.0.0-SNAPSHOT of January 16, 2023 (Changelog)
For bugs and feature requests: Github
The remake supports the loading of saved games from the original game. For this to work you have to copy the file for the archive (ARCHIV.DS) and the files with the actual saved games (SAVE0.DS, SAVE1.DS, ...) to the filder of the remake.
The controls match the ones from the original game including special click (right + left mouse buttons together) for actions like viewing the content of a building and scrolling by holding the right mouse button.
You may use the following additional keys:
1 - 5: Buttons in south panel
Space: Building help
Arrow keys: Scrolling
p: Pause
+ and -: Adjust game speed
0: Reset game speed to default
v: Toggle video mode VGA/SVGA
Mouse wheel: Zoom
F11: Toggle fullscreen
Alt+Enter: Toggle fullscreen
s: Toggle sound
m: Toggle music
Features already included
Most of the features from the original game (see below for missing features)
Supported languages: German, English, French, Polish
Arbitrarily high resolutions
Smooth scrolling
Zoom
Optional control without special click (middle click)
Network games over LAN (1 vs 1) including team games
Changing game speed
Display of mission and game goals
Representation of different types of food in mines
Additional information about transport in window for castle or stock
Still missing or planned features
Original game: Replacing an existing building by a new one
Original game: Timers for menus or buildings
Ogiginal game: Scrolling while building a path
Disable some types of messages
Tooltips
Messages for missing resources for Stonecutter and Fisherman
Automatic pathfinding on path construction
Display the work radius for buildings
Lobby for network games and network games with up to four players
Additional languages
Support for Amiga game files
Have fun playing the game.